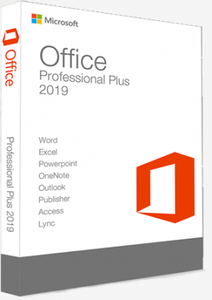 Microsoft Office 2019 Professional Plus 2019 Full Version - License Key Lifetime Full
Regular price
£29.99
Sale price
£139.99
Unit price
per
Activate Office 2019 under your own or a new Microsoft Account with this Key
Word, Excel, PowerPoint, Outlook, OneNote, Access, Publisher, Lync.
100% genuine new activation key

One-Time purchase for full version & lifetime validity of Office 2019 Pro Plus Version for 1 PC/Laptop.

NO DVD/USB SUPPLIED

. You can download the software using the Microsoft official website with the download link we provided.
All information including software license, download link and instructions will be emailed to you within

1-8 hours

after your purchase.

NOT for MAC (only Windows 10 Operating system)

You can select your country and language when installing.

MICROSOFT OFFICE PROFESSIONAL PLUS 2019 FOR WINDOWS 10
With Microsoft Office 2019 Professional Plus, you will receive the key Microsoft tools to keep you organized and productive whether that be through your business or in the comfort of your own home.
In this package, you will receive:

- Microsoft Publisher 2019
- Microsoft Access 2019 
- Microsoft Outlook 2019 
- Microsoft Word 2019 
- Microsoft Excel 2019 
- Microsoft Powerpoint 2019 
- Microsoft OneNote 
- Microsoft Lync
All apps are frequently updated so you will always be up to date with the latest features. 

Take your writing to the next level with Microsoft Word. Microsoft Word, a word processor is a perfect tool for bloggers, writers, students or journalists working on professional documents. Use custom templates and added features to take your writing that one step further. 
Microsoft Excel is a spreadsheet program. Create professional spreadsheets for financial reports using custom-built templates or create your own using modern formulas and calculations.  
Create, neat presentations with Microsoft PowerPoint to make you stand out from the rest. Use animations and pre-made templates to improve your presentations. Perfect for students and business owners.
Microsoft Publisher, whilst similar to Word is a basic level publishing tool designed to create books, flyers or a variety of promotional documents.
Outlook is Microsoft's easy to use email service. The desktop application offers more in-depth features than the online outlook service. The perfect tool for all your email needs.
OneNote is best used in a collaborative environment. Insert individual notes, images or other content found on the internet and share with colleagues or family whilst storing it all in one safe, easy to access location.
Access is a database management software. If you need to build and create a database or web app to work more efficiently then this is for you. With pre-built templates create web apps that work through the browser or databases with no coding required. 
Connect with your team anywhere using clients across Windows, Mac, iOS, and Android™, or bring remote participants into meeting spaces of all sizes with Skype for Business. With one click, anyone can join your online meeting, from any device. You can choose to meet right away, or schedule from Outlook for later.
Return policy:
Because of the nature of software products, we only refund for order if the software license is proven to be invalid. Customers need email a screenshot of the error they receive. Please understand that we will not refund an order for the follow reasons:
Customer changes his/her mind after purchase.

Hardware/software incompatibility
Customer refuses to install the official version of software from Microsoft.
---