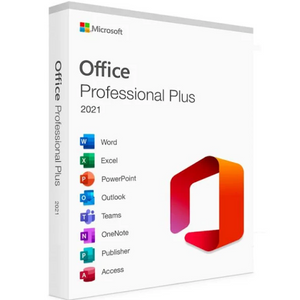 Microsoft Office 2021 Professional Plus 2021 Full Version - License Key Lifetime Full
Regular price
£39.99
Sale price
£139.99
Unit price
per
Email delivery of license, link and instruction within five minutes

No physical delivery
Download directly from Microsoft

For Windows 10 + or MAC, please choose your operation system

Everything you'd expect from an Office application and much more!
We hate to bang on about this, but buying a bargain doesn't mean making compromises! Once you purchase your product key, you have instant access to the entire Office 2021 professional Plus suite of programs.
This includes:
Microsoft Word
For decades, Microsoft Word has been setting industry standards. This latest version is crammed full of innovative features and useful tools. Innovations included in this version are Line Focus, Translating Tools, and editing tools, to name a few.
Microsoft Excel
Create spreadsheets effortlessly with Microsoft Excel. This version is full of breakthrough innovations, including Dynamic Arrays, Sheet Views, XLOOKUP, and much more.
Microsoft PowerPoint
Microsoft's "go-to" presentation application just got a whole lot better! The Office 2021 Professional Plus version features – Improved Record Slide Show feature, Slide animation, easily arrange slide elements, and many more.
Microsoft Outlook
Take control of your email, calendar, and to-do lists in one application – Microsoft Outlook makes communication and collaboration easy. This version also includes instant search and the ability to translate emails into more than 70 languages on the fly!
Microsoft Access
Unlock the power of your data with Microsoft Access – Microsoft's database application has always been seen as the industry standard. With Office 2021 professional Plus, it just got more powerful. Included in the latest iteration of Access are an updated Liked Table Manager, improved date/time data types, and improved tab management.
Microsoft Teams
Microsoft has replaced Skype with Microsoft Teams in the latest version of Office. With the rise of remote working, collaboration amongst teams has become a challenge. Now Microsoft has changed the game with the inclusion of Teams in Office 2021 Professional Plus. File sharing, task monitoring, and video conferencing are a few of the features now available in Microsoft Office.
Microsoft Publisher
Take control of your publishing and design needs with Microsoft Publisher. Simple and fun to use, this allows you to create stunning posters, flyers, business cards, and much more. If you have a desktop publishing requirement, Microsoft Publisher 2021 has it covered.
All of the above for one low payment!
At Office UK, we are proud of being able to supply all the above features for a one-off, low payment. Click Add to Cart and have instant access to the latest and greatest version of Microsoft's flagship Office Suite.
System requirements:
Processor: 1.6 GHz or faster, 2-core processor.
Memory / RAM: 4 GB or more for 64-bit; 2 GB or more for 32-bit based systems.
Hard disk: A minimum of 4GB of available hard-disk space is required on the installation hard drive.
Operating System: Windows 10 or Windows 11 is required for Office 2021 or MAC system
Graphics: Graphics hardware acceleration requires DirectX 9 or later, with WDDM 2.0 or higher on Windows 10.
.NET version: Some features may require .NET 3.5 or 4.6 and higher to also be installed.
Fantastic value and customer service!
I really can't rate Office UK highly enough for their great value and service. I have bought two lots of MS Office from them in the last year, and both are excellent. A minor glitch, reported at 11pm was sorted by 7am the next morning! Downloads work seamlessly and the software is the full official issue and no endless subscriptions. I bought this version for my intern, and he's loving it. I have the 2019 version, which is also excellent. I couldn't be happier. Highly recommended.
Microsoft Office 2021 Professional Plus 2021 Full Version - License Key Lifetime Full
Excellent service delivery
Excellent and fast service delivery.
No regret
Full package of productive tools
Lifetime licence is all you need. Better than paying an annual 365 Licence.
---